How to Stay Alive in the Woods
Platform Gallery
Seattle, WA
June 20 - July 27, 2013

In a slight shift of emphasis from earlier work, the painting, sculpture, and video that is seen in How to Stay Alive in the Woods begins with models made from pieced-together scraps of found material: discarded cardboard, cloth, sticks, string and putty; responding to their own materiality and using the idea of surrealist automatism as a point of departure.

These models can stand alone or become components of larger sculptures. "Worktable", the largest sculpture in the show, incorporates several smaller pieces as well as various imbedded animations and audio clips. The result can be seen as exploring the role the body plays in shaping the mind, a thought map of embodied cognition in which the viewer is invited to participate in its sense of unresolved not-knowing.

Once these sculptures are developed, I paint them from observation, exploring the way their construction influences the act of painting. By painting the figures frontally in the landscape, as if they are being presented for examination, I am intentionally referring to classical portraiture or botanical studies done by naturalists before the use of photography, when painting was used to document, to classify, to gain understanding, and to communicate ideas and images that would otherwise remain unknown.
---
2013 How to Stay Alive in the Woods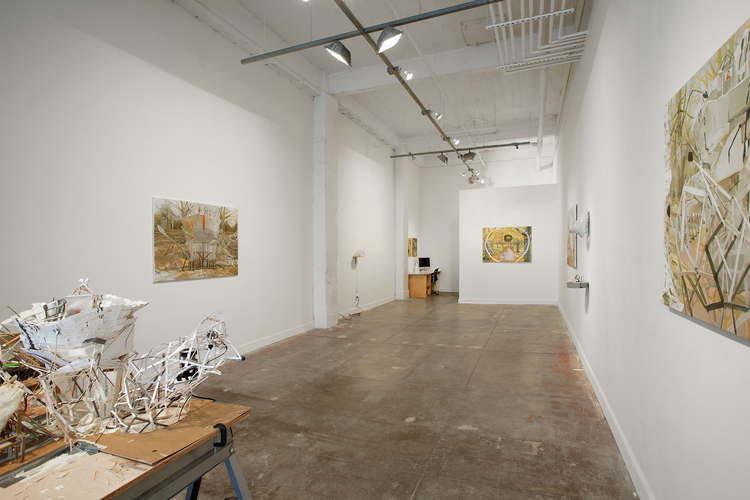 How to Stay Alive in the Woods
Platform Gallery
2013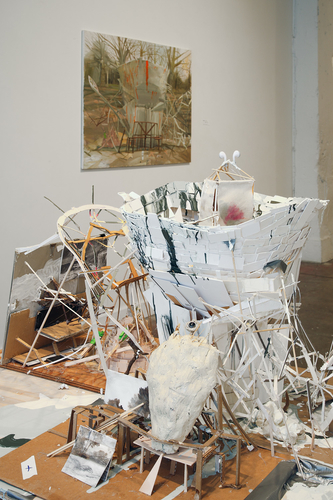 Installation Shot, Platform Gallery
2013
The observational painting, "Welcome, Ghosts" behind "Worktable", the structure that served as its model.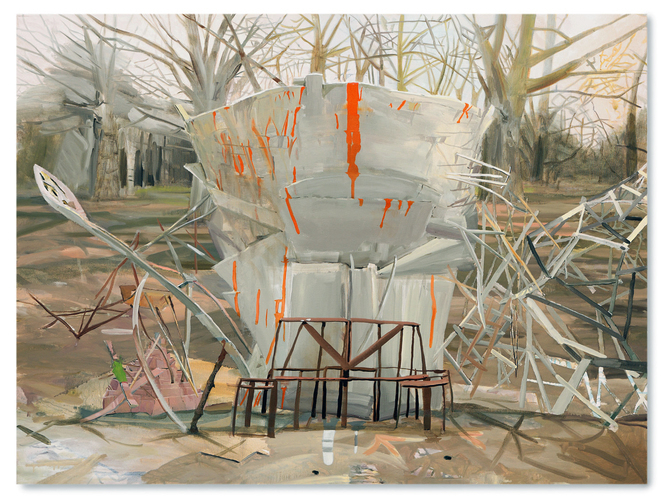 Welcome, Ghosts
2013
oil on canvas
36" x 48"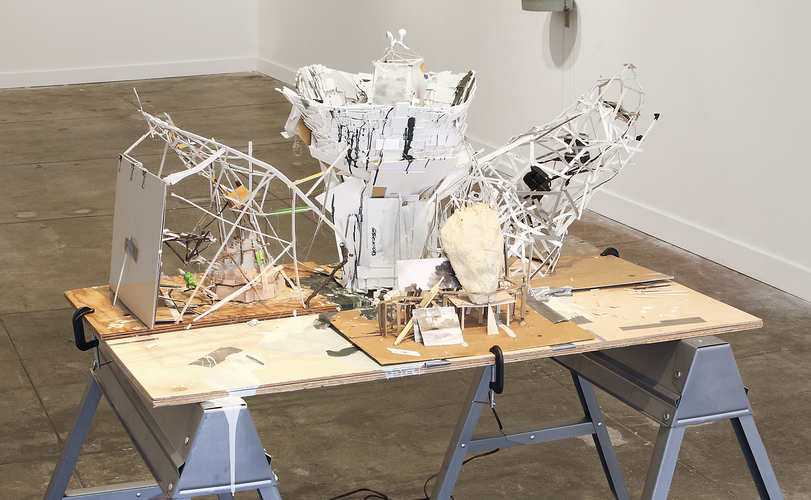 Worktable (A Plea for Better Leaders in the Form of Automatic Sculpture)
2013
Cardboard, wood, putty, paint, duct tape, dedicated Ipod Nanos and speakers
2.5 x 5 x 4 feet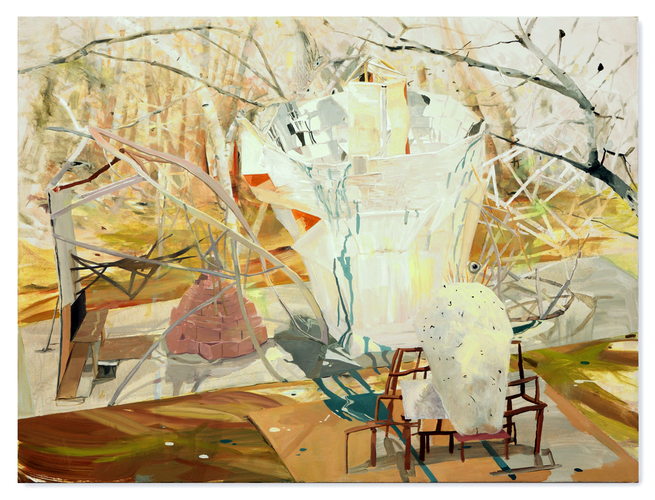 But My Heart is Wild and My Bones are Steel
2013
oil on canvas
36" x 48"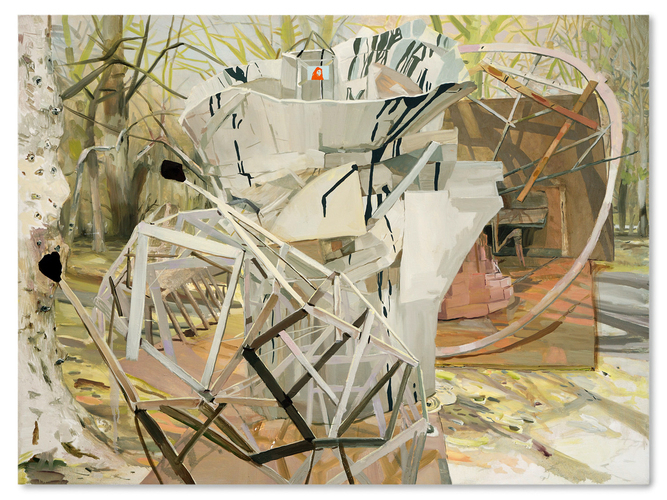 It is Difficult to Teach Bones
2013
oil on canvas
36" x 48"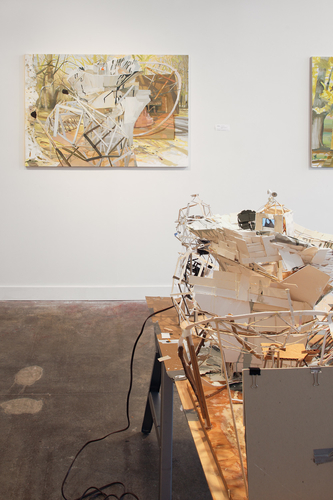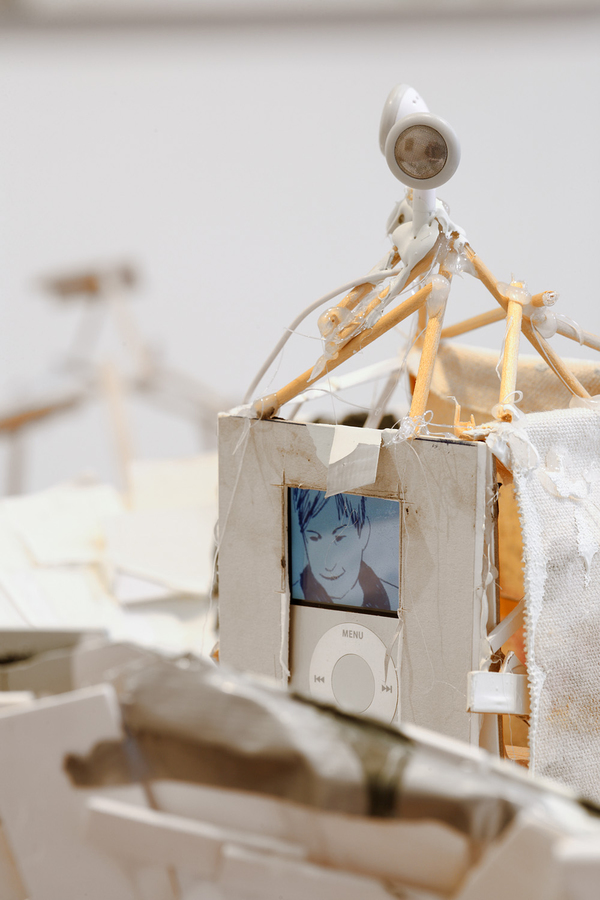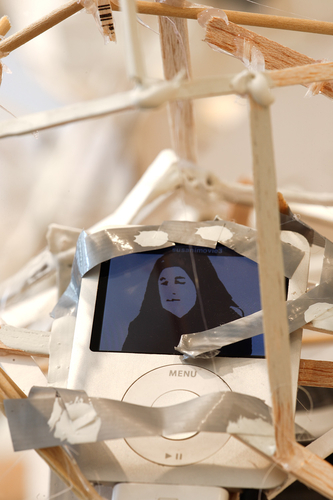 Detail showing the animation "Susan" imbedded in the larger piece, "Worktable"